Anthony Isaiah Goldstein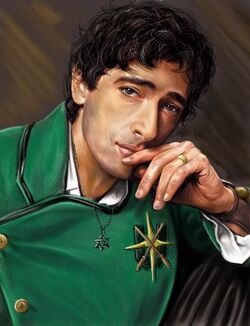 Occupation
Auror, Unspeakable
Anthony Goldstein was a seventh year Ravenclaw during Dumbledore's Army and the Year of Darkness. Tony is Jewish and always wears the Star of David around his neck.
Biography
Edit
Fourth Year
Edit
Tony attended the Yule Ball with Katarina Szarbo.
Seventh Year
Edit
Tony participated in Operation Alexandria. In the Battle of Hogwarts Tony lost his legs from the knees down.
After School
Edit
Tony became an Auror. He married Li Su and they have two adopted daughters: Asabi and Firyali.
Tony was one of the Aurors who came to help with Seamus and then bringing in the Diabhal Dubh. When the Aurors were being attacked Tony's Star of David protected him for some time.
Anthony is Jewish, and observes kosher only on Jewish holidays. Since he is Jewish he did not get the tattoo that all of the other survivng members of DA got (as marking or altering your body is forbidden in Leviticus). Tony has terrible stage fright.