Camellia Ariadne Parkinson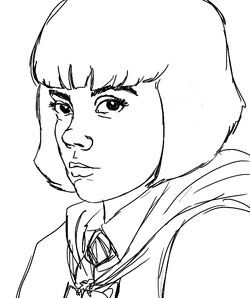 Family
Pansy Parkinson, older sister
Camellia Parkinson was a fifth year Ravenclaw in Dumbledore's Army and the Year of Darkness. Camellia joined Dumbledore's Army not because she didn't believe in Pureblood Superiority but because she really liked being right and what Voldemort was doing wasn't showing he was right, it was bullying. Like the reasoning Neville explains to Renny; she was fighting for the right to believe in and prove Pureblood Superiority, not force it.
She is the younger sister of Pansy Parkinson, three years. Camellia thought her sister was over-dramatic and Pansy thought that Camellia was born with her wand up her arse but they did love each other like sisters do despite that.
Camellia died in the Battle of Hogwarts after a piece of a balcony (the one that killed Euan and Lavender) got lodged into her chest and she made the mistake of pulling it out. After a few more spells hitting her she finally went down when she couldn't get clear of the explosion that took out the kitchens; she remained there and died of injuries that were fatal by the time she was found.