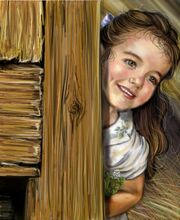 Cecily Harriet Macmillan, known as the "DA Princess" is the only daughter of the late
Ernie Macmillan
, with
Susan Macmillan (nee Bones)
. She was born 4 September 1998, and lives at Loch Cibeirdraoid, in the Highlands of Scotland, her father's property.
Her father looks over her as a ghost, tethered to her. She could see him when she was younger, but as she grew older she couldn't.
Her mother is now married to Seamus Finnigan (making him her step-father), and they have a child, who is her half-brother, Thomas Icarus Finnigan.
Cecily marries Neville Cedric Smith.