Demelza Chesten Robins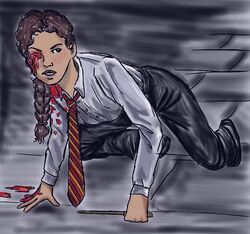 Demelza Robins was a sixth year Gryffindor during Dumbledore's Army and the Year of Darkness. During DAYD she began dating Colin Creevey. In the Battle of Hogwarts Demmy lost her eye. Also, her sister and Colin died.
Demmy went on to be an auror. She married Arthur Chambers and they have three children; Harry, Jack and Gwen.