Derek Christopher Adams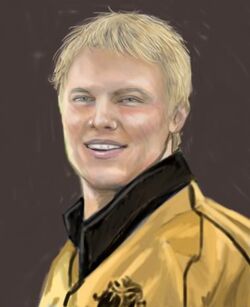 Occupation
Hufflepuff Beater
Sergeant for DA
Date of Birth
2 January 1981

Derek was a sixth year Hufflepuff during Dumbledore's Army and the Year of Darkness. He was a sergeant for Hufflepuff in DA. Derek liked poetry and jazz. He was a vegetarian. He had wanted to be an Auror after school.
Biography
Edit
Stephen and Derek
Edit
He began dating
Stephen Cornfoot
. He asked Stephen out in Derek's thrid year (Stephen was in fourth year). He first met Stephen when he saved Stephen from Crabbe trying to bully Charms notes out of him. The two went to the Yule ball together, but they didn't end up dancing. They got into a conversation about hockey and "why it was so awesome" and a "where are you from" discussion with a Durmstrang student (that went until 2 AM). Stephen had helped him study for O.W.L.s (which he got E's and O's in nine of them). He had planned to move to Canada with Stephen and Stephen's parents.
His father does
not know that Derek is gay and no one told him, even after Derek died, in the
Battle of Hogwarts
.
Sixth Year
Edit
Derek held the front steps during the Battle with Ernie, Perseus, Dean and Chris. He was killed by the Loup Garou, having his throat sliced open.
Derek became a vegetarian after he worked as a meat packer when he was 14.