James Archibald Peakes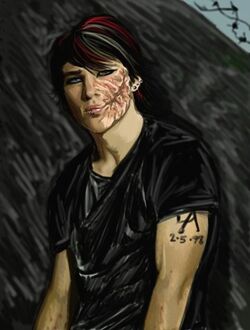 Hair
Honey Blonde
Black (dyed during his "rebellious phase")
James "Jimmy" Peakes was a fourth year Gryffindor in Dumbledore's Army and the Year of Darkness. He was a sergeant for Gryffindor in Dumbledore's Army. Jimmy's face got badly scarred during the Battle of Hogwarts. Jimmy is dating Rose Zeller. After the war Jimmy does not got back to Hogwarts (despite not even finishing four years) but Rose does. He visits her in Hogsmeade. Rose then gets Jimmy a job at the Nimbus factory. They move into a flat together.
He dated Daphne Greengrass (who was trying to push away the reputation of Slytherin) when he was seventeen and he and Rose had broken up for a few months. After Rose's death he got back together briefly with Daphne and during this time his oldest son
Jacob
was conceived.
He was engaged to Rose when she died in Sluagh.
He married Naomi Russell and together they have four children; Hope, Neville, Colin and Rose.