Luna Marie Scamander nee Lovegood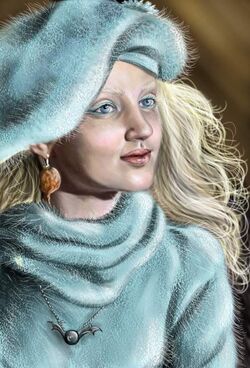 Home
Rook-like house near Ottery St. Catchpole, Devon, England (previously)
Family
Xenophilius Lovegood, father
Rolf Scamander, husband
Lorcan Scamander, son
Lysander Scamander, son
Love Interests
Rolf Scamander, husband
Luna was the Ravenclaw Lieutenat for DA. Luna was kidnapped at the start of Christmas holidays during her sixth year. She is the only member of DA to marry someone who wasn't a member of DA; she married Rolf Scamander. She has two sons Lorcan and Lysander.
Luna describes her usefulness to the DA; 'There was a long silence, then Luna stood. "I'm Luna Lovegood, in case some of you who aren't in my house or my year don't know me. I think I can be used because my father prints The Quibbler, the primary alternative news source of the wizarding world, and anything you need to tell the public, I'll find a way to get it in. We have excellent connections among a lot of witches and wizards who have never subscribed to the Ministry. Some of them aren't even known to the government at all." '
Luna's first wand was from her mother; Orangewood and Roc feather, 10 1/2 inches. Her second wand was Ivy and Unicorn, 9 3/4 inches.