Sally-Anne Forrest nee Perks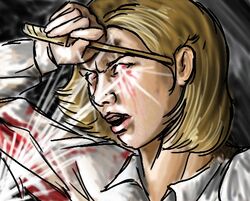 Date of Birth
31 December 1979

Sally was the only Hufflepuff in her immediate family as both her parents were Gryffindors as were three of her four brothers, and her other brother being a Ravenclaw. Sally-Anne was blinded during the Battle of Hogwarts, but, when she joined the Auror Department, got replacement eyes (the newer model of Alastor Moody's magical eye). She is married to Norman Forrest.
Sally-Anne's first appearance;
Sally-Anne Perks, a Hufflepuff seventh-year, had a mother who had worked for Fudge's election campaign for Minister of Magic, and she helped them to create a veritable snowstorm of propaganda that blanketed the school within two days. Graffiti lined the walls – Dumbledore's Army: Still Recruiting! – and everywhere students went, they were besieged with the atrocities that had been committed by You-Know-Who's followers over the past weeks.