Susan Circe Amelia Finnigan nee Bones
Place of Birth
Portsmouth, England
AKA
Sue
Susan Bones
Susan Macmillan
Home
Loch Cibeirddraoid, The Highlands, Scotland
Family
Hector and Lucinda, parents
Eloise Gregory (1974), sister
John Gregory, brother-in-law (an Enforcer)
Amelia Gregory, niece (1995)
Kirsten Gregory, niece (1997) Cordelia Barlow, sister (1978)
Edward Barlow, brother-in-law (clerk for Wizengamot)
Samantha Barlow (1997)
Ernie Macmillan
, husband (deceased)
Cecily Macmillan
, daughter
Seamus Finnigan
, husband
Thomas Icarus Finnigan
, son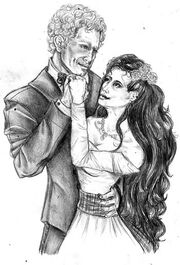 Susan Bones
was a seventh year Hufflepuff during
Dumbledore's Army and the Year of Darkness
. During Christmas holidays, on 21 December 1997, she married
Ernie Macmillan
. She became pregnant with their child,
Cecily Macmillan
, during the year. Sue nearly dies during the
Battle of Hogwarts
and but Ernie uses old Celtic magic and sacrifices himself so that Sue can live.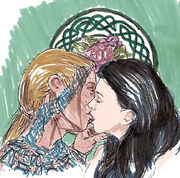 When
Seamus
, after being the Sluagh, gets moved to the Loch (due to the magic of the Loch he cannot leave) he and Sue spend a lot of time together (as Sue owns the Loch). They fall in love and get married. Sue has Seamus' son
Thomas Icarus Finnigan
.